CIA Bureaucracy Re-Murders Their own Operative, Again: Wag-the-Dog for 2012 Re-Election Campaign or Continuuance of the 9/11 Bogeyman GWOT Racket?
By Mike Sparks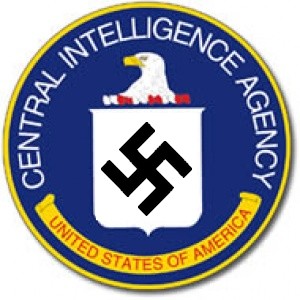 "In politics, nothing happens by accident"
--President Franklin Delano Roosevelt
The timing of President of the United States (POTUS) Barrack Obama's announcement that an U.S. Navy SEAL team has allegedly killed alleged a-CIAduh leader Bin Laden is highly suspect. We will cite the British REUTERS report since they are closely linked to British Intelligence MI6 (ie; they own the newspaper!).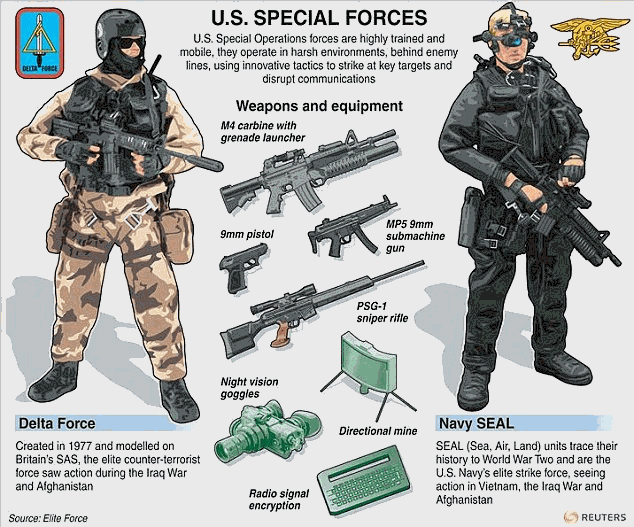 www.reuters.com/article/2011/05/02/us-obama-statement-idUSTRE74107920110502
By Steve Holland and Faisal Mehmood
WASHINGTON/ABBOTTABAD, Pakistan | Mon May 2, 2011 5:18am EDT
WASHINGTON/ABBOTTABAD,
Pakistan (Reuters) - Al Qaeda leader Osama bin Laden was killed in a U.S.-led operation involving helicopters and ground forces in Pakistan on Sunday, ending a nearly 10-year worldwide hunt for the mastermind of the September 11 attacks.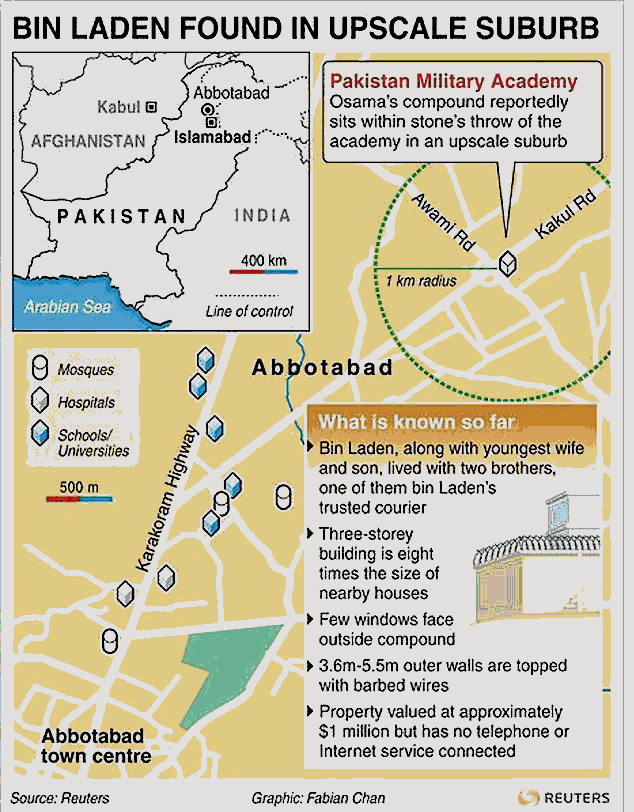 U.S. officials said bin Laden was found in a million-dollar compound in the upscale town of Abbottabad, 60 km (35 miles) north of the

Pakistani capital Islamabad. A source familiar with the operation said bin Laden was shot in the head.

"Justice has been done," President Barack Obama declared in a hastily called, late-night White House speech announcing the death of the elusive head of the militant Islamic group behind a series of deadly bombings across the world.

Leaders worldwide praised the killing as a dramatic success in the war against al Qaeda, although many analysts cautioned it was too soon to say bin Laden's death would mark a turning point in the battle against a highly fractured network of militants.

Jubilant, flag-waving celebrations erupted in Washington and New York after Obama's announcement. It was the biggest national security victory for the president since he took office in early 2009 and could

give him a political boost as he seeks re-election in 2012.

Obama may now also find it easier to wind down the nearly decade-old war

in Afghanistan, begun after the September 11, 2001, attacks on New York and Washington that killed nearly 3,000.

But the operation could complicate relations with Pakistan, already frayed over U.S. drone strikes in the west of the country and the jailing of a CIA contractor accused of killing two Pakistani men.

A[n] U.S. official said Pakistani authorities were told the details of the raid after it had taken place.

The revelation bin Laden was living in style in a mansion will also put Pakistani officials under pressure to explain how he could have been right under their noses. Residents in Abbottabad said a Pakistani military training academy is near the compound.

"For some time there will be a lot of tension between Washington and Islamabad because bin Laden seems to have been living here close to Islamabad," said Imtiaz Gul, a Pakistani security analyst.

U.S. officials said American forces were led to the fortress-like three-story building in Abbottabad after more than four years tracking one of bin Laden's most trusted couriers, whom U.S. officials said was identified by men captured after the September 11, 2001 attacks.

"Detainees also identified this man as one of the few al Qaeda couriers trusted by bin Laden. They indicated he might be living with or protected by bin Laden," a senior administration official said in a briefing for reporters in Washington.

Bin Laden was finally found after authorities discovered in August 2010 that the courier lived with his brother and their families in an unusual and extremely high-security building in Pakistan, officials said.

"When we saw the compound where the brothers lived, we were shocked by what we saw: an extraordinarily unique compound," a senior administration official said.

"The bottom line of our collection and our analysis was that we had high confidence that the compound harbored a high-value terrorist target. The experts who worked this issue for years assessed that there was a strong probability that the terrorist who was hiding there was Osama bin Laden," another administration official said.

Bin Laden and three adult men, including a son of bin Laden, were killed along with a woman who was used as a shield by a male combatant, officials said. The New York Times said bin Laden's body was taken to Afghanistan and then buried at sea.

RESIDENT WOKEN BY BLASTS, GUNFIRE

The operation took under 40 minutes. A U.S. helicopter was lost due to a mechanical problem and its crew and assault force safely evacuated, officials said. No Americans were harmed in the operation, Obama said.

"After midnight, a large number of commandos encircled the compound. Three helicopters were hovering overhead," said Nasir Khan, a resident of the town. "All of a sudden there was firing toward the helicopters from the ground. There was intense firing and then I saw one of the helicopters crash," said Khan, who had watched the dramatic scene unfold from his rooftop.

Authorities said bin Laden's hideaway, built in 2005, was about eight times larger than other homes in the area. It had security features including 12- to 18-foot walls topped with barbed wire, internal walls for extra privacy, and access controlled through two security gates.

It had no telephone or Internet connection.

"It is not a surprise that bin Laden was captured in an urban heartland," said Sajjan Gohel of the Asia Pacific Foundation.

"Many of al-Qaeda's senior leaders have been captured in Pakistani cities. It had become a myth that the al Qaeda leadership were hiding in caves in the tribal areas."

POSSIBLE REPRISALS

Bin Laden's death triggered a travel alert for Americans worldwide, the U.S. State Department said, warning of the potential for anti-American violence.

Thousands of people gathered outside the White House, waving American flags, cheering and chanting "USA, USA, USA." Car drivers blew their horns in celebration and people streamed to Lafayette Park across from the street, as police vehicles with their lights flashing stood vigil.

"I'm down here to witness the history. My boyfriend is commissioning as a marine next week. So I'm really proud of the troops," Laura Vogler, a junior at American University in Washington, said outside the White House. [EDITOR: marines didn't kill Bin laden]

Similar celebrations erupted at New York's Ground Zero, site of the World Trade Center twin towers felled by hijacked airplanes on September 11.

A market perception that the death of bin Laden reduced the security risks facing the United States lifted the dollar from a three-year low and raised stock index futures.

U.S. crude oil prices also fell. "Current oil prices are regarded by most analysts as carrying significant risk premium at current levels and good news on the geopolitical front has the potential to move prices back below $100," said Ric Spooner, chief analyst at CMC Markets in Sydney.

However, some analysts said the market impact would be short lived.

Many Americans had given up hope of finding bin Laden after he vanished in the mountains of Afghanistan in late 2001.

Intelligence that originated last August provided the clues that eventually led to bin Laden's trail, the president said. A U.S. official said Obama gave the final order to pursue the operation last Friday morning.

"The United States has conducted an operation that killed Osama bin Laden, the leader of al Qaeda and a terrorist who is responsible for the murder of thousands of men, women and children," Obama said.

CAPTURED DEAD

Former President George W. Bush, who vowed to bring bin Laden to justice "dead or alive" but never did, called the operation a "momentous achievement" after Obama called him with the news.

Martin Indyk, a former U.S. assistant secretary of state for near eastern affairs, described bin Laden's death as "a body blow" to al Qaeda at a time when its ideology was already being undercut by the popular revolutions in the Arab world.

Other experts were more cautious. "It changes little in terms of on-the-ground realities -- by the time of his death bin Laden was not delivering operational or tactical orders to the numerous al Qaeda affiliates across the world," said Rick Nelson of the Center for Strategic and International Studies in Washington.

Statements of appreciation poured in from both sides of Washington's political divide. Republican Senator John McCain declared, "I am overjoyed that we finally got the world's top terrorist."

India said the killing underlined its concern that "terrorists belonging to different organisations find sanctuary in Pakistan," India's home ministry said in New Delhi.

A U.S. official said that the retrieval of the body may help convince any doubters that bin Laden is really dead.

The United States is conducting DNA testing on bin Laden and used facial recognition techniques to help identify him, the official said.

The United States is ensuring that bin Laden's body is being handled in accordance with Islamic practice and tradition, a U.S. official said.

Bin Laden had been the subject of a search since he eluded U.S. Soldiers and Afghan militia forces in a large-scale assault on the Tora Bora mountains of Afghanistan in 2001.

The trail quickly went cold after he disappeared and many intelligence officials believed he had been hiding in Pakistan.

While in hiding, bin Laden had taunted the West and advocated his militant Islamist views in videotapes spirited from his hideaway.

Besides September 11, Washington has also linked bin Laden to a string of attacks -- including the 1998 bombings of American embassies in Kenya and Tanzania and the 2000 bombing of the warship USS Cole in

Yemen. (Additional reporting by Jeff Mason, Patricia Zengerle, Arshad Mohammed, Alister Bull, Missy Ryan, Mark Hosenball, Richard Cowan, Kristin Roberts, Andrew Quinn and Tabassum Zakaria, Joanne Allen in Washington and Chris Allbritton in Islamabad; Writing by Steve Holland; editing by David Storey and Dean Yates)
Alternate story and photos:
dailymail.co.uk/news/article-1382645/Osama-Bin-Laden-dead-How-Navy-Seals-killed-Al-Qaeda-chief-near-Islamabad.html?ito=feeds-newsxml
Shootout, no surrender and carried away on foot after U.S. chopper broke down: Dramatic reconstruction of how hit squad finally took out Bin Laden

By David Gardner

Last updated at 11:42 AM on 2nd May 2011

* Luxury compound was only 60 miles from Pakistan capital Islamabad

* 40 minute shootout put an end to decade long hunt for terror chief

* Bin Laden refused to surrender and was eventually shot in the head, Body had to be carried away on foot after U.S. helicopter broke down

Wanted man: Nearly 10 years after the 9/11 atrocities, a carefully planned U.S. operation led to Osama bin Laden being shot dead in Pakistan

Almost ten years after the horror of 9/11, Osama bin Laden must have thought he was safe.

He had moved from the remote, barren mountains on Afghanistan's inhospitable border to a comfortable $1 million mansion in one of Pakistan's most picturesque and affluent cities.

Abbottabad - named after James Abbott, the British major who founded the town in 1853 - has such a pleasant climate that it is a major hub for tourists visiting the region.

And the former home of the Gurkhas is still a major military base so locals have no reason to feel threatened.

Behind the walls of his sprawling compound about 60 miles north of the Pakistani capital of Islamabad, Bin Laden had every reason to believe he was way beyond the searching eyes of the Americans he had taunted for so long.

His family was with him and a parade of couriers would bring him everything he needed from the city outside of more than a million people.

So confident was he that the huge three-storey house he was living in was eight times larger than most other homes in the area, hardly a low-profile hideaway for the most wanted man in the world.

But, according to U.S. intelligence sources, Bin Laden was taken completely by surprise by the special forces who had spent the best part of a decade stalking him.

He had, after all, survived two wars launched with the aim of capturing him and his followers.

The last time the Americans and the British got as close - a few months after the attacks on New York and Washington - Bin Laden managed to elude them on horseback through the caves and gullies in the White Mountains of eastern Afghanistan.

For most of the past ten years, Bin Laden lived up to the nickname of 'Elvis' he had been given by the CIA because there had been so many bogus and fanciful sightings.

But as long ago as last August, President Obama was told in an intelligence briefing that there was a possible lead that Bin Laden was hiding in plain sight in Abbottabad.

It took eight months for U.S. and Pakistani agents to confirm for certain that the information was accurate.

Mr. Obama and his national security chiefs wanted to be absolutely sure because the tip seemed so implausible.

After so many dead end enquiries, it was hard to believe that the elusive Al Qaeda chief would be so brazen as to live in a town favoured as a retirement spot for Pakistan's military and society elite.

The ten-foot walls and heavy security surrounding the compound made verification all the more difficult.

But a week ago, Mr. Obama was given concrete photographic proof that Bin Laden was there.

After several run-throughs and the diplomatic blessing of the Pakistani government, a small special forces team of U.S. Navy SEALs landed in the compound grounds yesterday with the explicit instruction - get Osama bin Laden, dead or alive.

The raid on the compound, which was just 100 yards from a Pakistani military academy, was launched at about 1:15 am in the morning, according to witnesses. Four U.S. helicopters took off from the Ghazi air base in northwest Pakistan. Bin Laden's guards opened fire from the roof and one of the helicopters crashed.

During an operation that took just 40 minutes from start to finish, Bin Laden was shot in the head in a firefight as he tried to evade capture. Three of his men were also killed along with a woman they tried to use as a human shield. One of Bin Laden's eleven sons was said to be among the dead.

No Americans were hurt in the mission, but it didn't go without a hitch.

The helicopter they used to breach the mansion walls suffered a mechanical breakdown and couldn't fly the Soldiers out.

The SEALs burned the helicopter and had to carry Bin Laden's body out on foot, an ignominious ending for the terrorist chief after one of history's biggest manhunts.

It was also a major triumph for a special CIA and special forces team of up to 100 whose mission since September 11 has been to find and kill Bin Laden. For years, they have had to brave the jibes aimed at both the Bush and Obama administrations over the failure to track down the mastermind behind the 9/11 attacks.

They worked closely with the ISI, the Pakistani intelligence service for whom many CIA officials have a deep mistrust because of the agency's traditional ties with the Pashtuns of Waziristan, who were believed to have harboured Bin Laden for some of his years on the run.

After he evaded capture in mid-December 1991, there were precious few credible leads of his whereabouts.

But about four years ago, CIA agents managed to identify one of his most trusted couriers after a detainee at Guantanamo Bay gave them his nickname.

It took another two years for them to discover the area where the courier and his brother were operating.

By January this year, they found out that the courier and his brother were living in a mansion that appeared to be much larger than anything they could afford. Suspicions were raised further by the thick walls around the compound.

While other homes in the area put rubbish out to be collected, the trash was burned in the ground of the mansion, which did not have a telephone or internet service.

By February, U.S. intelligence officials were confident that Bin Laden and his family were living there and by March, Mr. Obama was convening top secret meeting with his senior security staff.

The CIA believe that for many years before settling in Abbottabad, Bin Laden moved from village to village in Waziristan. He communicated only about once a month and never used a telephone.

When he reached a village with his bodyguards he would request a meeting with the local tribal leader and a substantial bribe would be paid.

Bin Laden would then be the guest of the village, where under Pashtun custom, he must be protected.

The main obstacle in finding him was that even if someone wanted to betray him and collect the $25 million reward - there was no one to turn to.

The local police would know Bin Laden was there and if anyone tried to report his presence they would quite likely be killed.

One local mullah from Waziristan agreed to send information about Bin Laden's movements and his beheaded body was found several weeks later with a message that his was the fate of spies.

While Operation ENDURING FREEDOM was successful in liberating Afghanistan from Taliban control after 9/11, there was no doubt that the real prize was Bin Laden himself.

But the Al Qaeda chief had chosen his first redoubt with care. For several years before 2001, he had developed an intricate network of caves and dwellings 14,000ft up in the settlement known as Tora Bora.

The impenetrable mountains not only made it difficult for anybody to track him, they were also just a few miles from Pakistan, allowing him to escape easily as western troops moved in.

The commander of one U.S. military force told the "60 Minutes" news show how Soldiers under his command found Bin Laden - but let him slip through their fingers.

The commander, calling himself Dalton Fury, expressed his frustration at having known where Bin Laden was, but feeling he was powerless to do anything.

At one point, he said, his forces were closing in on Bin Laden's men - but he decided to abort the mission because he did not have support from Afghan troops.

And in another incident Delta Soldiers actually saw a tall man dressed in camouflage that they believed was Bin Laden - only to have the Al Qaeda leader escape their bombing campaign in the mountains.

Fury talked about a book he has written entitled Kill Bin Laden, detailing his memories of the campaign in Tora Bora in 2001.

Our job was to go find him, capture or kill him, and we knew the writing on the wall was to kill him because nobody wanted to bring Osama bin Laden back to stand trial in the United States somewhere,' the mission commander told his interviewer.

He said the administration's strategy was to let Afghans do most of the fighting, however.

Using radio intercepts and other intelligence, he said, the CIA pinpointed Bin Laden's location in the Tora Bora mountains near Pakistan.

Fury's Delta team joined the CIA and Afghan fighters and piled into pick-up trucks. He claimed their orders were to kill Bin Laden and leave the body with the Afghans, keeping an Afghan face on the war.

However an audacious plan to come at Bin Laden from the back door was vetoed higher-up - Fury claimed he was never sure who.

And a second plan to drop hundreds of landmines over any escape route into Pakistan was also vetoed, with Fury claiming he had no idea why.

The only option left was a frontal assault. Fury said he had 50 men in Delta force up against Bin Laden's 1,000 - support from the Afghan forces was needed.

But, he claimed, many of the Afghan soldiers were not on board - seeing Bin Laden as a hero.

One night - alone without his Afghan allies - Fury said he was told Bin Laden was two kilometres away. Faced with overwhelming odds, he elected to stay away.

But the decision always nagged him. He wrote in his book: "My decision to abort that effort to kill or capture Bin Laden when we might have been within 2,000 metres of him, about 2,000 yards, still bothers me.

'It leaves me with a feeling of somehow letting down our nation at a critical time.' But, he added, it wasn't worth the risk."

Fury had a second chance: Later, a Delta force named Jackal radioed they had Bin Laden in sight.

He wrote: "The operation Jackal team observed 50 men moving into a cave that they hadn't seen before. The mujahideen said they saw an individual, a taller fellow, wearing a camouflage jacket. Everybody put two and two together, "okay, that's got to be Osama bin Laden egressing from the battlefield'".

"They called up every available bomb in the air, took control of the airspace. And they dropped several hours of bombs on the cave he went into. We believe, it was our opinion at the time, that he died inside that cave."

Later, however, he was proven wrong, when American forces were unable to find Bin Laden's body and the Al Qaeda leader began releasing radio and video footage again.

Fury told 60 Minutes he believes he knows what happened.

He said Bin Laden was wounded in the shoulder by shrapnel from an American bomb, and was then hidden a town next to the Al Qaeda cemetery. "We believe a gentleman brought him in - a gentleman, him and his family were supporting Al Qaeda during the battle. They were providing food, ammo, water. 'We think he went to that house, received medical attention for a few days then, and then we believe they put him in a vehicle and moved him back across the pass," he was quoted as saying.
---
Were Stealth Helicopters Used During the Raid?

http://youtu.be/L8_dAnOludg

Web Page

combatreform.org/uh60stealthhawklostduringwagthebinladenraid.htm
---
Analysis
We know as facts that:
1. Obama had just announced the beginning of his 2012 re-election campaign
2. His disputed birth certificate had recently been presented to the public
3. The public awareness and enthusiasm for self-made millionaire Donald Trump's whose popularity as a TV celebrity and stated Republican 2012 candidate threatens Obama's re-election--is Trump one of us or one of them?
4. Obama's low public approval ratings due to the poor economy weakened by on-going war rackets started by the Rockefeller Illuminati under W. Bush
5. CIA director and Secretary of Defense top positions changed just days before
6. The apparent need to cut runaway defense spending to balance-the-budget
7. Obama's parents and he himself, worked for the CIA according to former navy spook Wayne Madsen
8. Bin Laden was a CIA operative whose whereabouts were always known and the figurehead in the U.S. Government instigated 9/11 False Flag Attacks (FFAs) to racketeer a bogus "war on terra". His (or someone's body) sudden burial at sea without at least photographic proof does not inspire much trust that he wasn't already dead and gone, and the SEALs didn't just whack some other raghead like say his son. Lori Price of CLG News suggests one of Bin Laden's sons was the actual victim, which would provide the DNA required matching. He may even look like dear old--dead--dad:
"Wow, that was quick! So much for the DNA check. Now, bin Laden's oldest son was killed in the U.S. attack, so that will suffice as a DNA 'match' and 'confirmation' for the lapdog-ish U.S. media. Never mind Obama's birth certificate being fake - Osama's 'death certificate' is fake! The U.S. will (now) get public support to kill Qaddafi/invade Libya for Exxon Mobil. The threat level is rising as a result of the U.S. 'killing' Osama bin Forgotten. The war on [of] terror continues."
Lori also cites prior evidences that he was already dead:
December 2001: Bin Laden Already Dead - Report 26 Dec 2001
Usama bin Laden has died a peaceful death due to an untreated lung complication, the Pakistan Observer reported, citing a Taliban leader who allegedly attended the funeral of the Al Qaeda leader. Bin Laden, according to the source, was suffering from a serious lung complication and succumbed to the disease in mid-December, in the vicinity of the Tora Bora mountains. The source claimed that bin Laden was laid to rest honorably in his last abode and his grave was made as per his Wahabi belief. About 30 close associates of bin Laden in Al Qaeda, including his most trusted and personal bodyguards, his family members and some "Taliban friends," attended the funeral rites. The Taliban source who claims to have seen bin Laden's face before burial said "he looked pale... but calm, relaxed and confident."
November 2001: 'Bin Laden in poor health, to live for only two more years' --CIA agent alleged to have met Bin Laden in July 01 Nov 2001
Two months before September 11 Osama bin Laden flew to Dubai for 10 days for treatment at the American hospital, where he was visited by the local CIA agent, according to the French newspaper Le Figaro. The disclosures are known to come from French intelligence which is keen to reveal the ambiguous role of the CIA, and to restrain Washington from extending the war to Iraq and elsewhere. Bin Laden is reported to have arrived in Dubai on July 4 from Quetta in Pakistan with his own personal doctor, nurse and four bodyguards, to be treated in the urology department... Bin Laden has often been reported to be in poor health. Some accounts claim that he is suffering from Hepatitis C, and can expect to live for only two more years. According to Le Figaro, last year he ordered a mobile dialysis machine to be delivered to his base at Kandahar in Afghanistan.
Osama bin Laden is killed by U.S. forces in Pakistan 01 May 2011
Osama bin Laden, the long-hunted al-Qaeda leader and chief architect of the Sept. 11, 2001, terrorist attacks on the United States, was killed by U.S. forces Sunday in a firefight in Pakistan, President Obama announced. In a rare Sunday night address from the East Room of the White House, Obama said a small team of U.S. personnel attacked a compound Sunday in Pakistan's Abbottabad Valley, where bin Laden had been hiding since at least last summer. After a firefight, the U.S. team killed bin Laden, and took custody of his body in what Obama called "the most significant achievement to date in our nation's effort to defeat al-Qaeda."
Lori reminds us: "NORAD took directives from Osama bin Laden? Because NORAD was ordered to stand down on 9/11."
9. No hijacked airliners rammed into the Pentagon or World Trade Center buildings since the physical evidence shows explosive bombs were set off and the many discrepancies in what few on-scene witnesses we have; the passenger and death lists and plane registrations show actors were paid to perpetrate a massive insurance fraud and pre-text for a corporate war-for-profits
10. The USG has lied many times before to us, why should this be any different?
It Doesn't Add Up: Why Stonewall on No Evidence?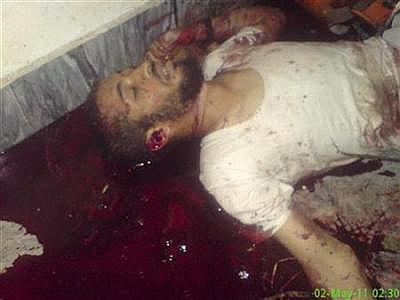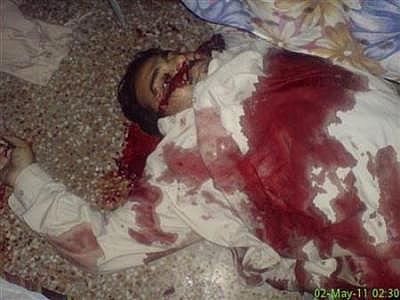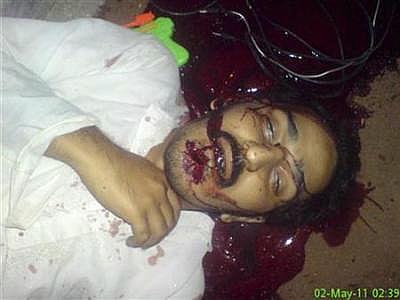 Here are 3 alleged dead men from the raid--not that gruesome at all--so what's the excuse in not showing OBL's body?
POTUS Obama's refusal to publish a photo of Bin Laden's body (stonewalling) is harming his efforts to convince the public that the raid he ordered actually killed him. Why would he want to do that? One possibility is that he CANNOT publish the photo because he doesn't have the evidence he wants to CONvince the public or else he would eagerly and gladly supply it. If he is worried about the public and potential enemies using the photo for their own ends, this is a legitimate concern but it can be mitigated against by having known government critics and forensic experts like a medical examiner Cyril Wecht, photographer Jack White, former Secretary of Commerce Morgan Reynolds and philosophy expert Dr. James Fetzer examine the photo(s) and report back to the general public with their findings.
There are other puzzling examples of Stonewalling on No Evidence; there are reported to be 84 sets of video camera footage confiscated by the FBI from around the Pentagon on September 11, 2001, which could instantly and easily show a 757 airliner slamming into the 5-sided building---had this actually happened. That this video footage has not been released indicated the Stonewalling on No Evidence (STONE) course of action (COA) is in effect. With over a decade to fabricate with computer generated imagery that there still is no FBI release of clear footage of a 757 slamming into the Pentagon also suggests that in the absence of evidence, the risks of trying to pass off a forgery is so dangerous and fatal that the best COA is to stonewall and offer nothing. The blurred alleged Pentagon video footage that has been released doesn't count since it doesn't show much of anything clearly. It could only be used as talking points to claim "we released some Pentagon footage".
I suspect that STONE is a standard military-intelligence service practice when for whatever reasons they could not come up with a "Zapruder film" that is convincing to meet their deception goals. It also suggests that the MILINDINTELCOMP believes that THE AMERICAN PEOPLE DO NOT DERIVE THEIR VIEW OF REALITY FROM PHYSICAL EVIDENCE. It suggests that they believe that the majority of today's Americans fabricate their views of reality by what's dictated to them by the U.S. Government and the mainstream media (MSM) both of which are controlled by secret elites.
With the Wag-the-Bin-Laden operation, the perps have a frozen body ala 1943's Operation MINCEMEAT that simply cannot be shot after being thawed out and take a convincing picture, or they will only show this picture if backed into a corner and take their chances that it will be ascertained that he has been frozen for several years beforehand. The STONE option will be played as long as possible, hopefully this will suffice for posterity for the perps to prevail. Another tying-up-loose-ends by a watery burial was JFK's casket that was dumped into the ocean to prevent scrutiny of the body autopsies that took place which suggest body tampering and some have suggested actual swapping with someone who resembled JFK like Dallas policeman Tippitt. If you don't have the evidence you want, or what you have will give the game away, stonewall on no evidence and count on the sheeple to form their views of reality according to what authority figures tell them--instead of demanding to find out for themselves or by experts trusted by the general public.
Bin laden is dead; that's the lie; he has actually been dead for several years. What the Obama administration so far has refused to do is reveal a picture of the dead Bin Laden that could provide clues as to THE TIME OF DEATH; which is a basic Forensics Science, "Coroner 101" concern because everything hinges on it to narrow down the cause of death--and who or what did it. Stonewalling on this when there are options to reveal the information to trusted representatives indicates GUILTY DEMEANOR on the part of POTUS Obama for which he should be impeached. Only the guilty hide their crimes.
Where's the Body? The Terrorist Who Never Was.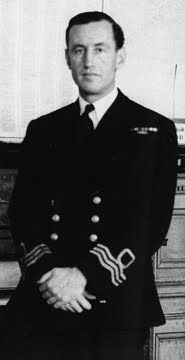 Commander Ian Fleming RNVR 1939-1951; MI6-SIS 1937-1964
Ian Fleming.
If you want to know what is going on today, go back and see what Ian Fleming wrote.
Or what he did.
Operation MINCEMEAT.
In 1943, Commander Ian Fleming RNVR and his other naval intelligence co-conspirators needed to fool the Germans into thinking we were going to land on Greece--and not Sicily where we were really going to land. They found a drunk in the morgue who would pass for a British Royal Marine Major and placed him in a refrigerator inside a British submarine dressed in uniform with forged papers of the mythical invasion and his false identity. The Royal Navy submariners snuck onto the coast of Spain where they knew Nazi intelligence agents were busy and washed ashore the major's body lost from a mythical seaplane crash (they are always getting bad press even if they don't crash!). The Germans were told of the intelligence find and were subsequently fooled and not ready when we landed on Sicily. Estimates are 7 German divisions were waiting in Greece for an invasion never to happen. These divisions were kept away from a counter-attack against the Russians, too.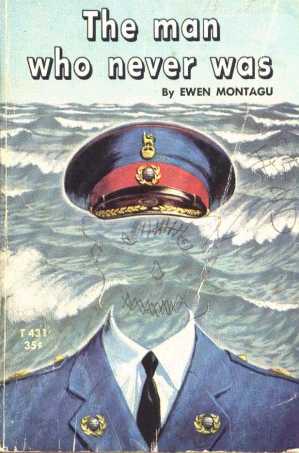 After the war, Fleming's co-conspirator Lieutenant Commander Ewen Montagu wrote a book, The Man Who Never Was and revealed the secret that became a best-seller and a 1956 movie:
Video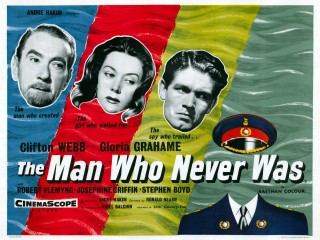 You can watch the entire movie as well as a factual documentary on the operation on the YOUTUBE playlist below.

www.youtube.com/view_play_list?p=ECF0FBEF4926FE13
www.imdb.com/title/tt0049471/
Description
British Intelligence during World War II is trying to get the German High Command to shift it's forces away from Italy prior to the invasion. To create the illusion of a plan for England to invade Greece a dead body is to be procured, allowed to be found with secret papers on him by Spanish authorities who will send the papers on to the Germans, or that's the plan. First they have to find a body that will look drowned, and create an identity for him that will pass the examination of the German agent who is sure to check him out. Based on a true story.
In a case of synchronicity, Stephen Boyd, who plays an Irish Nazi spy in the movie, later on starred as a hero and not a villain in Fleming's last movie script, The Poppy is Also a Flower in 1966.
www.imdb.com/title/tt0060848/
I'm working on a modernized version called The Bell Tolls for Thee: The Poppy is Also Flower as 007 fan fiction.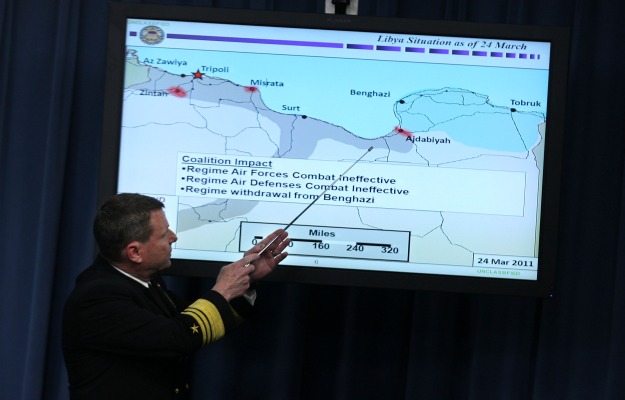 Thus, today's generation of spooks have taken a page out of The Bodyguard of Lies and have used a WW2 trick on us; "the terrorist who never was". So we have ample precedent.
At least when the CIA hunted down and killed Che Guevara, we got to see the body to know for certain.
However, there is the possibility that the body's burial-at-sea is either:
a.) a Revelation-of-the-Method (ROTM) mockery of us that we didn't catch on that this is a repeat of the 1943 Operation MINCEMEAT deception or:
b.) it's a hidden message from some moral people in U.S. Special Operations telling us, "HEY, LOOK AT THIS MORE CAREFULLY", ie; "WE ARE CONNING YOU AGAINST OUR WILL" as we are under orders.
http://en.wikipedia.org/wiki/Death_of_Osama_bin_Laden
Geronimo was the Native American leader of the Chiricahua Apache who defied the U.S. government and eluded capture,[131] raiding frontier settlements and killing settlers from the United States and Mexico.[132] A transmission from operatives on the ground in Pakistan of Geronimo E KIA (Geronimo, enemy killed in action) alerted mission commanders to the death of bin Laden.
www.cbsnews.com/stories/2003/10/02/60minutes/main576332.shtml
"Prescott Bush, George W's grandfather, and a band of Bonesmen, robbed the grave of Geronimo, took the skull and some personal relics of the Apache chief and brought them back to the tomb," says Robbins. "There is still a glass case, Bonesmen tell me, within the tomb that displays a skull that they all refer to as Geronimo."
ROTM or secret message to see-through the BS? Or neither?
www.prisonplanet.com/inside-sources-bin-ladens-corpse-has-been-on-ice-for-nearly-a-decade.html
Inside Sources: Bin Laden's Corpse Has Been On Ice For Nearly a Decade

A multitude of respected intelligence officials and heads of state have both publicly and privately asserted that Osama has been dead for years

Paul Joseph Watson

Prison Planet.com

Monday, May 2, 2011

A multitude of different inside sources both publicly and privately, including one individual who personally worked with Bin Laden at one time, told us directly that Osama's dead corpse has been on ice for nearly a decade and that his "death" would only be announced at the most politically expedient time.

That time has now come with a years-old fake picture being presented as the only evidence of his alleged killing yesterday, while Bin Laden's body has been hastily dumped into the sea to prevent anyone from finding out when he actually died.

VIDEO: Pieczenik on Alex Jones Show, May 3, 2011

http://youtu.be/NKvrL03vWik

In April 2002, over nine years ago, Council on Foreign Relations [CFR] member Steve R. Pieczenik, who served as Deputy Assistant Secretary of State under Henry Kissinger, Cyrus Vance, and James Bake, told the Alex Jones Show that Bin Laden had already been "dead for months".

Pieczenik would be in a position to know such information, having worked directly with Bin Laden when the U.S. was funding and arming the terror leader in an attempt to drive the Soviets out of Afghanistan in the late '70s and early '80s (a documented historical fact that talking heads in the corporate media are actually denying today in light of developments).

"I worked with Osama bin Laden in '78, '81," Pieczenik told Jones, adding that he later turned terrorist hunter during subsequent administrations.

"I found out through my sources that he had had kidney disease. And as a physician, I knew that he had to have two dialysis machines and he was dying," Pieczenik told Jones during the April 24, 2002 interview.

"And you could see those in those films, those made-up photos that they were sending us out of nowhere. I mean, suddenly, we would see a video of bin Laden today and then out of nowhere, they said oh it was sent to us anonymously, meaning that someone in the government, our government, was trying to keep up the morale on our side and say oh we still have to chase this guy when, in fact, he's been dead for months," added Pieczenik.

Pieczenik then stated that the video tape of a fat Bin Laden look alike "taking responsibility" for 9/11 that was released in December 2001 was "such a hoax" designed to "manipulate" people in the emotional aftermath of 9/11.

The subsequent war in Afghanistan that followed 9/11 was orchestrated "With the agreement of the bin Laden family, knowing fully well that he would die," said Pieczenik. "And I think that Musharraf, the President of Pakistan, spilled the beans by accident three months ago when he said that bin Laden was dead because his kidney dialysis machines were destroyed in East Afghanistan."

In addition to Pieczenik, as we reported in August 2002, Alex Jones was separately told by a high level Republican source that Bin Laden was dead and that his body was being kept "on ice" until Osama's death could be announced at the most "politically expedient" time.

When Jones asked the source if his claim was mere speculation or whether it was actually true, the source re-iterated the fact that he was being deadly serious and that Bin Laden's corpse was "physically on ice" waiting to be rolled out for public consumption at the most opportune moment.

Many expected that moment to be right before the 2004 election, but after Democrats began speculating about the possibility, Republicans settled instead for a fake Osama video tape that was released on the eve of the election and, according to both George W. Bush and John Kerry, was the deciding factor in a closely-fought contest. Veteran news reader Walter Cronkite labeled the entire farce a Karl Rove-orchestrated "set-up".

In addition to these sources, a deluge of other heads of state as well as intelligence agency professionals have gone on record over the past nine years to state their belief that Bin Laden was likely dead, after it became clear that the Al-Qaeda leader's health was in severe decline as a result of kidney disease at the end of 2001. These include;

- Former CIA officer and hugely respected intelligence & foreign policy expert Robert Baer, who in 2008 when asked about Bin Laden by a radio host responded, "Of course he is dead."

- On December 26, 2001, Fox News, citing a Pakistan Observer story, reported that the Afghan Taliban had pronounced Bin Laden dead and buried him in an unmarked grave.

- On January 18, 2002, Pakistani President Pervez Musharraf announced: "I think now, frankly, he is dead."

- On July 17, 2002, the then-head of counter-terrorism at the FBI, Dale Watson, told a conference of law enforcement officials that "I personally think he [Bin Laden] is probably not with us anymore."

- In October 2002, Afghan President Hamid Karzai told CNN that "I would come to believe that [Bin Laden] probably is dead."

- In 2003, former Secretary of State Madeleine Albright told Fox News Channel analyst Morton Kondracke she suspected Bush knew the whereabouts of Osama bin Laden and was waiting for the most politically expedient moment to announce his capture.

- In November 2005, Senator Harry Reid revealed that he was told Osama may have died in the Pakistani earthquake of October that year.

- In February 2007, Professor Bruce Lawrence, head of Duke University's Religious Studies program, stated that the purported video and audio tapes that were being released of Bin Laden were fake and that he was probably dead.

- On November 2, 2007, former Pakistani Prime Minister Benazir Bhutto told Al-Jazeera's David Frost that Omar Sheikh had killed Osama Bin Laden.

- In March 2009, former U.S. foreign intelligence officer and professor of international relations at Boston University Angelo Codevilla stated: "All the evidence suggests Elvis Presley is more alive today than Osama Bin Laden."

- In May 2009, Pakistani President Asif Ali Zardari confirmed that his "counterparts in the American intelligence agencies" hadn't heard anything from Bin Laden in seven years and confirmed "I don't think he's alive."

In a way, the establishment had their hand forced in having to announce the death of someone whose shadowy existence had proven very useful to them in maintaining fear and uncertainty amongst the population of America and the world.

The fact that the myth behind Al-Qaeda has been completely demolished and that the group, through a myriad of revelations, including Anwar Al-Alawki's post-9/11 visit to the Pentagon, is now widely known to be a U.S. intelligence front, perhaps now means that Al-Qaeda will be swept-under-the-rug and a new enemy will be invented in order to legitimize the continued U.S. military-complex domination of the globe.

H/T: James Corbett - Osama Bin Laden Pronounced Dead... For the Ninth Time

*********************

Paul Joseph Watson is the editor and writer for Prison Planet.com. He is the author of Order Out Of Chaos. Watson is also a regular fill-in host for The Alex Jones Show.
Conclusions that Can Be Drawn

youtube.com/view_play_list?p=D8AD8C8DB1A9008A
1. Re-Election Maneuvering Certainly
This operation smells of a media manipulation of the U.S. sheeple public to bolster POTUS Obama's flagging popularity as a check-the-block that was always available--but was only put in action according to re-election plans. It's logical to expect other public opinion enhancing cards to be played to further Obama re-election; ie; Illuminati instigated evil actions that are suddenly thwarted or diminished; like defense budget cuts of their own foreign occupation protection racket. 9/11 is not any different than mafia thugs visiting your business and breaking some things in exchange for regular "protection payments", except it was done by the U.S. military-industrial-congressional- intelligence-think-tank complex controlled by the Rockefeller Illuminati secret society. As a democrat, Obama though appearing as a Rockefeller "Bush Light" should be a proponent of the Rothschild Illuminati left-wing NWO agenda of global warming as the bogeyman to fear, but he has Rockefeller Illuminati perpetuated raghead bogeyman schemes in Iraq/Afghanistan.
2. Revenge of the Ragheads?
A certain amount of covering-their-tracks seems to be in effect in the cover story put out that detainees provided the intel to locate Bin Laden--this enables the illegal Guantanamo Bay racket to continue--no war declared, yet prisoners kept indefinitely with no due process--very Nazi-like.
If the game plan is for a nuclear terrorist attack to instigate an India-Pakistani war of depopulation by 2 BILLION people, having the war-on-terra subside could be the desired prelude of "lowering our guard"--after of course Obama is re-elected. Here's a fictional story of how an India-Pakistan war could be concocted:
combatreform.org/masquerade007shortstory1.htm
The reports that CIA operative Davis was trying to give rebel groups radioactive materials to concoct a false story that Pakistan's nuclear weapons are leaking and "unsafe" requiring an U.S. invasion are troubling. We must not let Pakistan become the rogue nation-state "bogeyman" for Illuminati depopulation schemes.
3. Or Are We Switching to Totally New Bogeymen?
If we are going to switch bogeymen--perhaps the bogus extraterrestrial hypothesis (ETH) "flying saucers" event the Illuminati have been working on for years?--even rival Illuminati factions are obliged to cover up for each other's operations before moving on. So we suffer one more public relations stunt crying over 9/11 dead--some of them fictitious to collect the insurance pay-outs--and blaming ragheads or da Jews!--instead of the CIA and MILINDINTELCOMP who actually did it.
We know for a fact that just months ago, former U.S. military officers went public with their stories of UFOs meddling with our nuclear missiles that caused no stir in the public mind and has been followed by pro-ETH FBI documents being posted on their web site.
It sure smells like the Illuminati have decided to diminish the raghead terror card and move on to something else.
It appears we are entering a new and more dangerous era where a more horrific 9/11 is planned for us.