UPDATED 12 September 2009

SYNCHRONIZING THE BATTLEFIELD WITH RANGER-TECH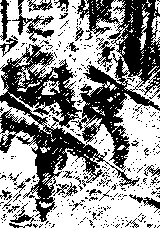 Web page originally published to www in 1997 by the 1st TSG (A)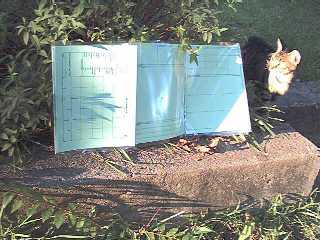 "Bravo Fife-One, this is X-Ray-Seven Fife...."

How many times in the seconds following have you struggled to find out needed troop leading information, fumbling with notebooks, binders, notepads that get soggy, smeared, cannot be read easily?

The troop-leading process as we all know is a cumbersome, time-consuming affair....here is a solution.

The Ranger OPORD Board/Book

For years, students attending Ranger School have taken Meals-Ready-to-Eat (MRE) cardboard sleeves and cut them into boards with operations orders (OPORDs), warning order formats, immediate action (IA) drill sketches etc. using the weather resistance of this cardboard to give their squad/platoon a common way of thinking when they take turns being patrol leaders. Here is a refinement of that tool that fits into the hollow of the rucksack frame or leader's mapcase, adds no weight to the Soldier's load and is almost zero-cost to incorporate.

Constructing the Ranger OPORD Board


Copy the following 8.5 by 11 inch OPORD format sheets to get an original set to mass-produce for your unit's leaders. Click on the links below to:

A.) As a picture; then click the right mouse button to save the picture to your computer or for immediate printing (click onto FILE and scroll down to PRINT)

B.) As a microsoft document; save it onto your computer, print as a document. Benefits are that you now have the Ranger OPORD board pages and can modify them to fit your unit's specific needs---if you are in a Mechanized Infantry unit you can change the pages to reflect that you have 120mm heavy mortars available as fire support...if you are Infantry Company Commander you can change "squads" to "platoons" etc.

Take your original Ranger OPORD board set to a photocopy place and print sets on light green paper for all your key leaders. Light green paper is subdued and thus, less likely to give away your position to the enemy in the field as white paper does.

Page 1 as a picture
Page 1 as a microsoft word document
---
Page 2 as a picture
Page 2 as a microsoft word document
---
Page 3 as a picture
Page 3 as a microsoft word document
---
Page 4 as a picture
Page 4 as a microsoft word document
---
Page 5 as a picture
Page 5 as a microsoft word document
---
Page 6 as a picture
Page 6 as a microsoft word document
---
Page 7 as a picture
Page 7 as a microsoft word document
---
Page 8 as a picture
Page 8 as a microsoft word document
---
Page 9 as a picture
Page 9 as a microsoft word document
---
Page 10 as a picture
Page 10 as a microsoft word document
---
Page 11 as a picture
Page 11 as a microsoft word document
---
OPTION 1: Laminated, accordion-folded
Then tape together all 11 of the OPORD sheets together on their long sides so they accordion-fold. Its an option to put them back-to-back, but if you make them attach on one side, you can detach half the OPORD to have your Platoon Sergeant do half of it if that's how you like to do planning.
Laminate the entire OPORD and trim.
Photos below: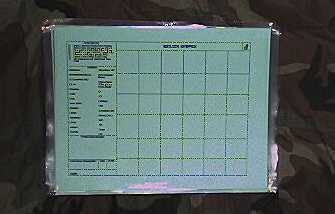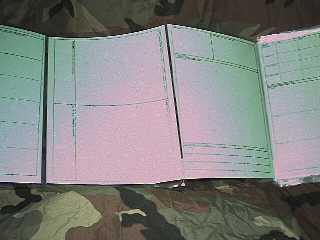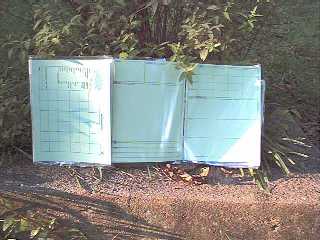 OPTION 2: Place in a notebook
Begin with a West Point "Brown Bomber" report folder or equivalent, placing the Ranger OPORD sheets inside, after being laminated inside clear top-load plastic sheets that fit into the 3 or two ring prongs of the folder.
Cut two pieces of MRE carton cardboard to cover the report ends and tape them to the folder using 100 mph tape. Completely cover them so you create a thick, durable folder. You can place a clear piece of plastic on the front cover and tape the ends for sealing and so a title can be written by alcohol marker on the front.
Briefing from the Ranger OPORD Book For a field environment, without markers, pens, heavy planning bay markers etc. that a mechanized infantry unit can carry inside a vehicle, the Ranger OPORD Book is a lightweight, durable infantry tool that fits inside the inner ruck frame using a bungee cord, or the leader's mapcase, adding virtually no weight to the Soldier's load. In fact, the reduced clutter from not having to take myriad troop leading aids frees the BDU pants pocket and is completely outside of the the rucksack, for rapid accessibility and no alterations of the rucksack load SOP..
Two-dimensional sector sketches allow an accurate picture of defensive positions as well as an expanded legend are possible. Two copies of this acetated and on hand inside the Ranger OPORD book allows you one for reference and one for the next-higher CO.
The Ranger OPORD board is flexible because it can be wiped clear of alcohol marker and grease pencil markings using commercial OFF! or G.I. insect repellent for fast developing situations and continuous combat operations.... Enemy and Friendly situation, SOI type information should be erased just prior to missions in case of enemy capture.
Lean it upright against the topo map to brief Soldiers on the upcoming mission; small units or key leaders can see the OPORD words if written in large block letters utilizing the ample space given.
Field tested in extreme arctic conditions minus 34 degrees below, 2LT Smith and I have used our Ranger OPORD books constantly in the field under extremely demanding conditions of freezing rain, melting snow, biting winds, mud and muck. The Ranger OPORD books do not crack, tear or fall apart thanks to the combination of plastic acetate, 100 mph tape and weather-resistant MRE cardboard construction. One book could easily last for an entire career in the field if not lost. We get many requests for these books so we have decided to share our little secret with the rest of the U.S. Army for the combat excellence we all seek to attain.
Other Variations of the Ranger OPORD board.... You can also take the 11 troop-leading sheets enclosed and attach them to the back side of a topographical map then heat laminate. Then everything fits inside the BDU trouser pocket for a flexible OPORD board that can be spread out on the ground or stretched out across a tree using 550 cord. If the topo map is on the reverse of the OPORD sheets, a terrain model should be built for simultaneous briefing.
RANGERS LEAD THE WAY!

1LT William D. Linn II, a 1995 graduate of the U.S. Army Military Academy, he has a B.S. in history. Prior to commissioning, he served in 3/75th Ranger Regiment during Operation Just Cause, taking part in the night combat parachute assault at Torrijos International Airport. 1LT Linn currently serves as a rifle platoon leader in "B" Company 1-501st PIR, Ft Richardson, AK. His awards/badges include; U.S. Airborne wings with star for combat jump, Ranger tab, CIB, Air Assault wings, Pathfinder torch and 3 foreign jump wings; England, Germany and Egypt.
2LT Kurt Smith, a 1996 graduate of OCS served in 3/75th Ranger Regiment during Operation Just Cause and with SFOD-D during Somalia prior to commissioning. 2LT Smith currently serves as a rifle platoon leader in "B" 1-501st PIR, Fort Richardson, AK. He is a graduate of PLDC, BNCOC, ANCOC, SF Qualification Course, Ranger School, Airborne, Jumpmaster, SCUBA, Military Freefall, LRS Leaders Course, OCS, IOBC and Pathfinder. His awards include the EIB, CIB, U.S. Airborne wings with star for combat jump and the Bronze Star with combat "V" device.
---
---