UPDATED 24 January 2011

WHY ALL TA-50 MUST BE BROWN


$$$$ Millions of dollars of the U.S. Army budget goes towards "TA-50" or individual Soldier Load Carrying/Field Living equipment in a tan color for desert war to replace the regular olive drab green TA-50. Not only does switching over to tan TA-50 spends precious war preparation time, it takes man hours to stock/issue the tan TA-50. The 82nd Airborne Division had to wait crucial hours for desert BDUs to be delivered to them before flying out to stand in the way of Saddam Hussein's Iraq. We were blessed that the Iraqi Republican Guard stopped at Kuwait's borders and didn't gobble up the Saudi Arabian oil fields. We have to be ready to GO NOW, parachuting in ourselves and everything we need like Grenada, Panama and almost Haiti.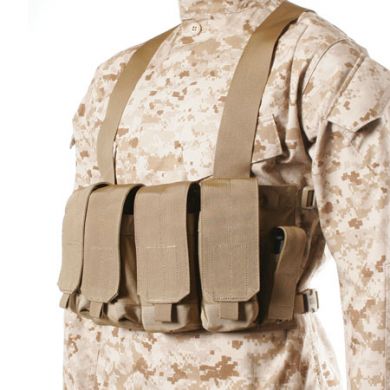 There is a simple solution: Make all TA-50 in a neutral brown color which would work well, camouflage wise, in either woodland green and desert areas. The Soldier himself would wear BDUs and helmet cover that are reversible woodland green or 3 color day desert camouflage. Over this would be his LBE-a ETLBV (Enhanced Tactical Load Bearing Vest) and his rucksack, both in brown color. All pouches, sheaths, canteen covers etc ., would be in brown. Sleeping bags, pads etc., would be brown like the Polypro u-wear and t-shirts are now.
Brown is a better color than green even in many situation where its vegetated because brown dirt is visible even if grass is gone.
WHO SHOULD DECIDE WHAT SOLDIER GEAR WE USE? A COUNCIL OF COLONELS OR THE LTs, SGTs, PVTS WHO CARRY THE GEAR AND WHOSE LIVES ARE IN DANGER?
The 1st Tactical Studies Group (Airborne) since 1997 has online;
ORIGINAL AES WEB SITE:

www.geocities.com/equipmentshop

IMPROVED (NO BANDWIDTH RESTRICTIONS) AES WEB SITE:

www.combatreform.org/aesindex.htm
offered and detailed through U.S. Army official channels; commercial, off-the-shelf and equipment modification solutions to almost every problem listed (and then some like ahumm, SOLVING THE SOLDIER'S LOAD) in the appalling recent U.S. Army Natick Afghanistan Report (which is viewable here). As we also forewarned, the u.s. marine designed "MOLLE" gear has been a COMPLETE and utter failure in Afghanistan service--even for the short time marines made a token ground appearance and fled back to their ships as the U.S. Army dodges the RPGs, mortars and AKM rounds to hunt down and kill the enemy terrorists.
The bottom line is, closed-minded and small-minded people (we know all about them, don't we?) are running the Congressionally-mandated and funded Army's Soldier Enhancement Program (SEP) which could have PREVENTED this sad state of affairs by some low-cost purchases.
Want to make a suggestion to SEP?
Make a Soldier Equipment Improvement suggestion to SEP
The Afghan power points show a number of gear problems that many of us have solved and proposed solutions through SEP and Natick channels mostly for naught. The Brits have a plastic ammo box for their M240-type medium machine guns. We could have upgraded the Kevlar helmet with a better chinstrap and suspension, offered the Nomex flyer's glove with a little insulation and in a black color, ALICE rucksacks could have synthetic frames and quick-release buckles, issued a chest binocular/NVG pouch and provided a toothbrush/shaving razor cartridge attachment point on the end of the MRE spoon years ago. However, the decision makers generally don't act on lesser rank Soldier inputs. The Afghan gear report is likely going to "whitewash" systemic failures so this is why we are calling on a Soldier board to be formed and given the money, authority and time to make Soldier gear decisions to prevent recurring failures like experienced in Afghanistan and now Iraq.
Whoever is ruining SEP should be replaced by someone who listens and ACTs on suggestions for improvement by Soldiers instead of pooh-poohing (ignoring) them with words like "dislikes". If a piece of gear doesn't work, gets left behind or gets someone killed it isn't some trivial matter.
The enemy terrorists got away from our Anaconda cordon and search operation while we were bogged down with equipment, a lot of it bad, so this is not a small matter. Details:
www.geocities.com/usarmyafghangearproblems
www.combatreform.org/realmountaindivision.htm
Solution: Soldier TA-50 Board and Subject Matter Experts in every Army unit
OK.
I think you see we are furious, and rightfully so. Here is THE ultimate solution.
We've just learned that its a "Council of Colonels" that meets to decide gear for us grunts for the SEP program to "type classify" (tested to "perfection" to be declared Army kosher) when it should be the lower-ranking gear gurus who are actually humping (carrying) the machine guns, rockets and mortars from every Army command representing their specific climes/places/missons. This is why a lot of our gear sucks. Most Colonels we've run into are concerned more with form than function and are not technotactically oriented and candid. SGTs, LTs and CPTs should decide on our new gear.
The expertise of the natural "gear gurus" should be tapped and have them designated as a "Master TA-50 Specialist"---an additional skill identifier (ASI). These gear experts would go to Natick Labs and be school trained on the proper fit and wear of ALL Army equipment and have field living (survival skills) taught to them so they can advise Commanders that a hot weather desert boot is NOT a mountain boot and how to properly size Soldiers for body armor so a bullet doesn't sneak by and kill them. The Army's Master TA-50 Specialists would also train the Soldiers in their companies how to wear and maintain their TA-50 as well as be pro-active about getting better gear. The Army is strangely an organization that goes "camping" yet hasn't trained itself how to "camp". Lay on top the need for combat mobility 4-7 mph which requires smart loading and constantly improved equipment, its clear that a Soldier from every Company in the Army should go to "gear school" to become a Master TA-50 Expert. To fund this we should cancel the un-needed LAV-III/Stryker deathtrap armored car purchases and upgrade superior tracked M113A3 Gavins into IAVs for the IBCTs. Call them tracked IBCTs or "Gavin Brigades".
An Army bureaucrat informs us that Company Commanders can buy with unit funds whatever gear they need for their men from the GSA Catalog and CTA 5900 (not Army "type classified" but available for purchase: "good enough" using Army funds) but this is something that's not pro-actively done and known about. Have you ever heard about this? GSA catalog is on CDs Supply Sergeants have so it takes a bit of looking when it should be on the www for all Soldiers to see.
What we need is a Soldier's Board of lower ranking gear experts who will review new gear, get it on the GSA Catalog/CTA 5900 and then publish an annual focused list throughout the Army encouraging Commanders/units/individuals to buy these items. Apparently its ok for units to fund-raise to build up a unit fund or this purpose, too so not having the money is not an obstacle. This list of authorized field gear on GSA/CTA 5900 should be placed on the Army Knowledge Online (AKO) secure web site so any Soldier can see what the Soldier Board recommends they get ASAP.
Every year, every Major Army Division (Airborne, Air Assault, Light, Mechanized, Armored etc.) and separate unit (2nd ACR, 172nd Arctic Brigade, SF, Rangers) has ITS SOLDIERS select by vote a field gear representative who will travel to Fort Benning, Georgia to decide for the rest of the Army what off-the-shelf Soldier gear to buy and what gear to develop. Every unit has at least one "gear guru" right for this job; a pro-active Soldier who studied field gear and on his own tinkers and tests what works and does not. THE CHAIN OF COMMAND DOES NOT SELECT THE GEAR BOARD SOLDIERS. Some out-of-touch Army General does NOT select some political yes-man to be on the board to keep the troops ill-equiped and "in their place". Some DA civilian with a ponytail going through perpetual mid-life crisis does NOT decide what items are bought or developed, THE SOLDIERS DECIDE. No "Council of Colonels". Its the individual Soldier's lives that are at stake not some bureaucrat in a comfy office with one retirement already under his belt longing for the good 'ole days when the equipment they had sucked and everyone liked it. What the Soldier TA-50 Board decides AUTOMATICALLY become AUTHORIZED Soldier optional wear/use items without the current kill-joy, politically correct "uniform board" having one say in their decisions. They do a great job keeping everyone miserable and without esperit de corps during garrison hours; the field Soldier's attire should be guided by FUNCTION decided by the mud-Soldiers. Each year a list of acceptible alternatives will be decided on by the Board for Soldiers to buy/use on their own option. Each year the board will decide on commensurate with the SEP budget what items will be bought/issued to enhance Soldiers immediately. And each year the board will see what industry and Natick Labs have "cooking" and provide feedback.
Airborne!
The Staff
1st TSG (A)
FEEDBACK!
A U.S. Army Combat Engineer writes:
"Lets do what you suggest about making the TA50 brown! It makes >a world of sense! Look at how the South Africans designed their web gear. Very impressive and useful design."
---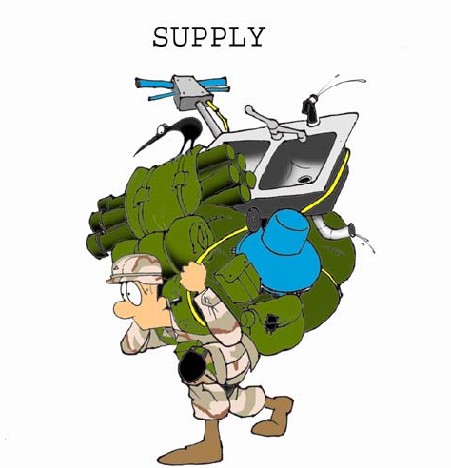 Want Pvt Murphy in your pocket?
---