SOLDIER HAND GRENADE QUALIFICATION AT HOME STATION IN MINUTES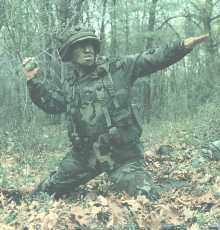 One of the assumptions is that it takes a long time and effort to create a bunker and trench for the standard U.S. Army Hand Grenade qualification range using e-tools and sand bags. Thus, this hassle precludes many units from even qualifying its Soldiers on grenades, or conducting EIB testing, resulting in Soldiers unready to employ the grenade in real world combat. Confidence is required to use grenades which if thrown wrong can injure/kill the Soldier. "Practice makes perfect" used to be the watch-words of a generation that got things done. We need to relearn them.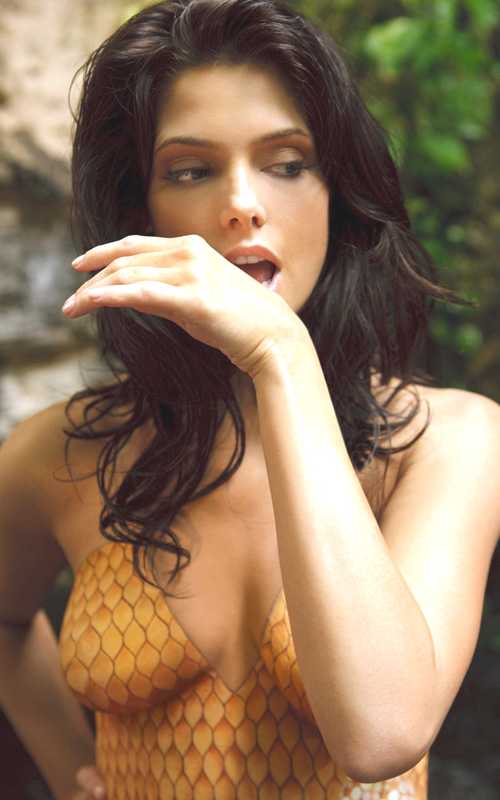 A lesson from history from Historian/tactician Emery Nelson:
Read Steven Ambrose's books on the great WWII Generation; Citizen Soldiers, is by far my favorite. Great stories about the men and Leaders who pulled off the campaign in Europe.
I just had to relate this story of the Assistant Division Commander (ADC) of the 29th ID, Brig. Gen. Norman "Dutch" Cota of the 29th (The man who cleared Omaha Beach, depicted by Robert Mitchum in the film, The Longest Day). This is the kind of thing that never fails to amaze me. I keep shouting to everyone I know that people do well when they are trained but falter if it's not what they expect. This is another story about muscle memory and it's training affect. No story I've ever read or seen so clearly illustrates this. I will quote it in total.
Big. Gen. Norman Cota, came on a group of infantry pinned down by some Germans in a farmhouse. He asked the Captain in command why his men were making no effort to take the building.
"Sir, the Germans are in there, shooting at us," the captain replied.
"Well, I'll tell you what, Captain," said Cota, unbuckling two grenades from his jacket. "You and your men start shooting at them. I'll take a squad of men and you and your men watch carefully. I'll show you how to take a house with Germans in it."
Cota led his squad around a hedge to get as close as possible to the house. Suddenly, he gave a whoop and raced forward, the squad following, yelling like wild men. As they tossed grenades into the windows, Cota and another man kicked in the front door, tossed a couple of grenades inside, waited for the explosions, them dashed into the house. The surviving Germans inside were streaming out of the back door, running for their lives.
Cota returned to the Captain. "You've seen how to take a house," said the General, still out of breath. "Do you understand?"
"Yes, sir."
"Well, I won't be around to do it for you again," Cota said. "I can't do it for everybody."
A little later on Ambrose points this interesting detail out about the training of Soldiers for Normandy.
"Where had that Captain been for the last six months? He had been in training to fight the German Army. He had been committed to offensive action, trained to it, inspired to it. But no one had thought to show him how to take an occupied house. He knew all about getting ashore from an LCVP, about beach obstacles, about paths up the bluffs, about ravines, about amphibious assault techniques. But no one had shown him how to take a house, because there were no standing houses on Omaha Beach, so that wasn't one of his problems."
To me that showed excellent leadership on Cota's part but some serious problems with overall training. It's probably not possible to cover all aspects of Infantry training in a short time but this should be covered in an advanced (infantry branch) officer course. It also occurs to me that your idea of a master infantry tactician would help solve some of these kinds of problems. The only way to compensate for lack of training is with leadership. Gen. Cota had it. Problem solved, lesson learned.
What will happen if we overlook grenades: Korea
The superb Korean war combat veterans web site states about CHICOM enemy use of grenades against us:
"Offensive, or Concussion, grenades. Contain an explosive charge in conical body attached to a stick, designed for demolition effect and to stun the enemy in enclosed places, so the thrower can charge while the enemy is dazed.
In the bunker position shown, they would be useful in a quick counter-attack on assaulting forces who became pinned down. During company-size assaults themselves, the Chinese armed entire platoons only with grenades, following them with other platoons armed with submachine guns, to take advantage of the stunned defenders. The grenade platoon members, when their grenades were expended, then armed themselves with weapons from either their fallen submachine gun platoon members, or from fallen defenders".
The "hassle" to create a grenade range is not true.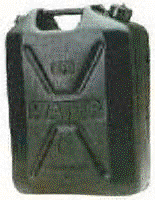 A grenade range can be created in minutes using standard 5 gallon water jugs. Fill them 1/4 way with water for weight. Lay out 4 in a square shape and place a square piece of plywood on top. Place a water jug on top of the plywood. You now have a "bunker" for the first grenade event.
Next, take 2 x E-type silhouettes and stand them up using wooden camou screen system stakes. Circle these targets with 8 water cans to simulate a trench hole. Pace off 20 meters and mark for the position where Soldiers will throw their grenades. Soldiers tossing grenades if they hit the silhouette or have their grenade land close will trap the grenade as they would if a hole was dug. If you are on land that cannot be dug up, you have worked around this restriction.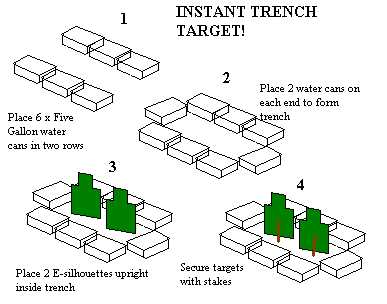 Finally, pace off 35 meters and lay down a meter circle using engineer tape. Place a target silhouette in the center held up by a stake.
Give each Soldier 5 x M69 training grenades, 4 go in his M16 magazine pouches, one in his hand. We suggest beforehand, painting the grenade bodies bright flourescent orange to prevent them from getting lost if thrown into the woods/bushes. Have him low/high crawl to the bunker, peek, prepare his grenade (remove safety clip/pin), then toss inside the firing opening. He faces away in the prone with weapon shouldered to fight off a counter-attack.
Then, have the Soldier engage the trench targets from 20 meters.
The final target is the distant 35 meter enemy-in-the-open target.
If Soldiers cannot kill with the 5 grenades, they go through the lane again until they do.
"If you first don't suceed, try, try again!!!"
Those that qualify "expert" (should be everyone) should be awarded an achievement certificate and the grenade expert badge. From then on, every 6 months this grenade lane should be set up and done just as we should shoot weapons EVERY DAY using indoor range ammunition.
The Soldier is a Kinetic Energy (KE) bullet "shooter" and a High Explosives (HE) throwing "grenadier", PERIOD.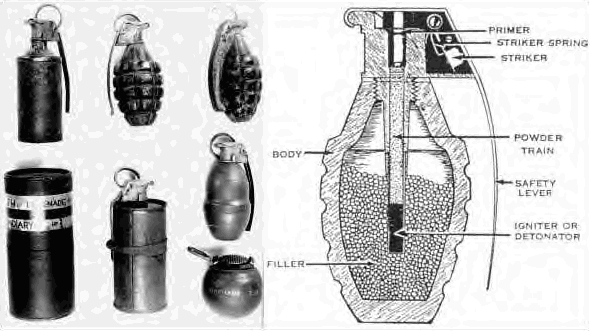 Current U.S. Army Hand Grenades
U.S. Army Hand grenades in Korean war
U.S. Army Rifle Grenades in Korea
CHICOM and North Korean grenades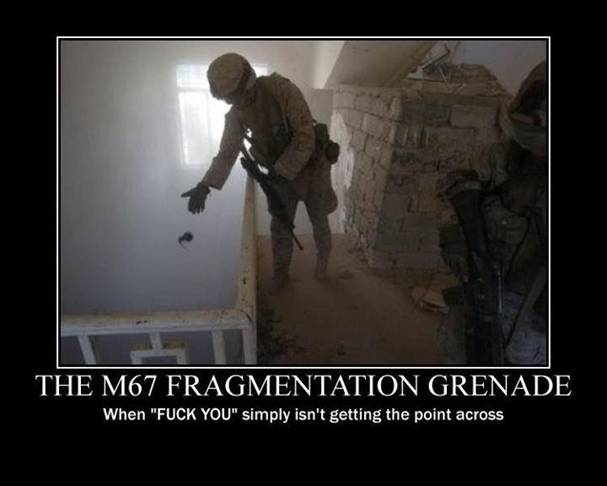 AIRBORNE!
---
Private Murphy's View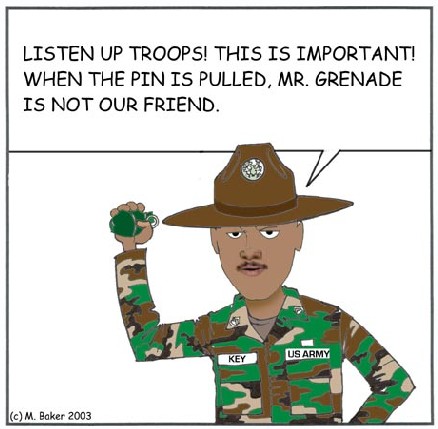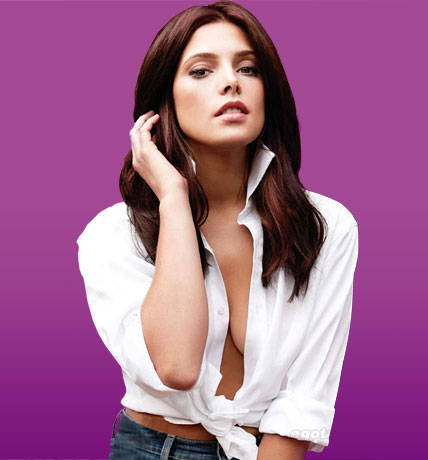 RETURN TO AES HOME
---